The Blog
5 Tips for the Perfect Cubby Makeover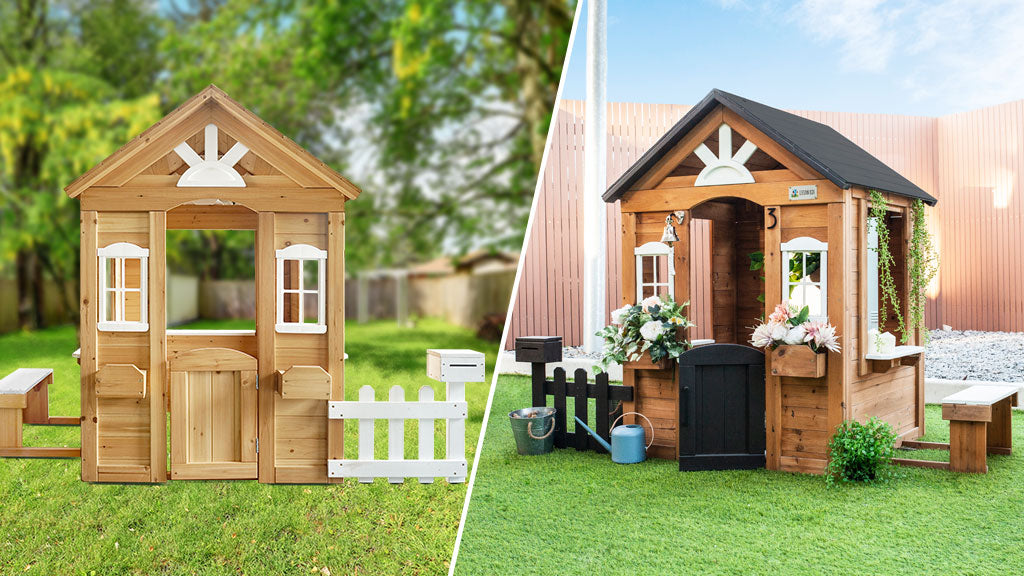 Looking for a fun, creative project to do with the kids? A DIY cubby house makeover is an exciting family activity that makes your child's play centre extra special. Not only is it a great way to spend time together as a family, but it also allows you to add a personal touch to your kid's play area. Cubby houses are a staple of childhood memories and a great place for kids to have their own space to play, imagine and create. Here, we'll show you how to make your child's cubby house extra special. We'll discuss five tips and DIY cubby house ideas for the perfect cubby makeover that will make your child's cubby house a unique and special place to play.  
Clean and Repair 
While it may not be the step that's the most fun, the first part of any makeover job is to give your cubby house a good clean, especially if you've had it for a while. Inspect it for any damage, and anything that might need repairing. Once you've removed everything out of the cubby, use a hose to remove dirt, cobwebs and grime from the interior and exterior. This will provide a fresh, clean slate for your makeover project. Next, inspect the cubby house for any damage or wear and tear. Replace any broken or damaged pieces and tighten any loose bolts or screws. A quick repair job can make a huge difference in the appearance and safety of the cubby house.  
Painting 
Now to the fun part. One of the easiest and most effective ways to instantly transform your cubby house is to give it a fresh coat of paint. Painting not only gives your cubby a new look but also helps to protect the timber from the elements. Before you start painting, consider using a primer on the surface first. This will ensure that the paint adheres properly and lasts longer. Take the time to choose a colour palette that suits your cubby and the surrounding environment. We offer cubby houses that are already painted or in natural timber, so you can decide on the right colour for your child. Bright and vibrant colours are perfect for a fun and playful look, while more muted tones create a calming atmosphere.  
Furniture and Accessories 
Now that you've got a painted cubby house, we can fill it up with some furnishings. Whether you're going for a real-life house feel, or just a fun environment full of your child's favourite play equipment, adding cubby house décor and accessories help to make your child's space truly their own. Lifespan Kids has a range cubby house furnishings and options for accessorising to elevate your cubby to the next level and cater to different cubby house designs. A play kitchen or kitchenette is perfect for little ones who love to pretend cook and play house. You can also opt for an alfresco mobile kitchen for an outdoor experience. A shelf or two can also be used to display toys or books, while a small table and chairs can create a comfortable space for your child to sit and play.  
 Decorating your Cubby House 
Another way to personalise your cubby house is to decorate it with wallpaper, decals or stencils. You can create a themed cubby by using a wallpaper that matches your child's interests or favourite characters. If you're feeling creative, you can even create your own stencils and paint a custom design on the walls. A pot plant or two can also add a touch of greenery and create a calming atmosphere. There are plenty of decoration ideas for cubby houses so be as creative as you want.  
Storage and Organisation 
While all this decoration, furniture and accessories can be a lot of fun, it can lead to a lot of clutter and messiness. Adding some basic storage in your cubby house can help keep the space tidy, functional and safe. Install shelves or cabinets to store toys and books and consider hooks or a pegboard to hand art supplies or costumes. Labelling the storage areas can also make it easier for kids to find and put away their belongings. A tidy and organised cubby house is not only more enjoyable to play in but also safer and easier to maintain.  
A cubby house makeover is a fun and creative project that you can do with your kids. By following these five tips, you can transform your child's cubby house into a unique and special place to play. Whether you choose to paint, add furniture or decorate otherwise, the possibilities are endless. Don't forget to have and enjoy the process with your little ones. If you have any questions regarding our range, feel free to contact us or one of our accredited retailers and we'll be happy to help you get to know our range a little better.  
Category:

News
Comments: 0