The Blog
5 Tips for Maintaining your Trampoline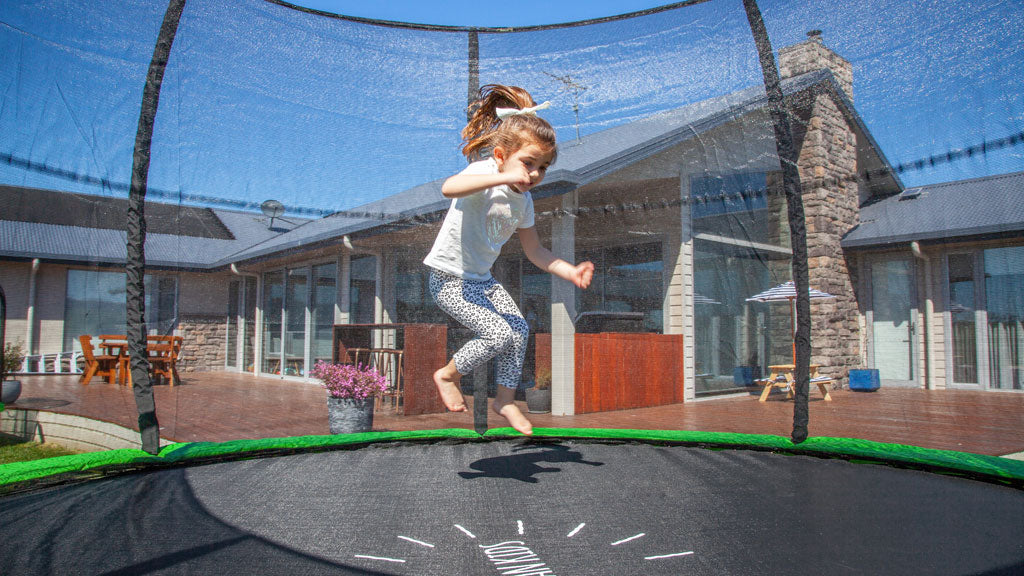 Trampolines are an Australian backyard classic for a reason. Kids absolutely love the thrill of jumping about, promoting physical exercise and outdoor activity. With the wide range of both spring and springless trampolines offered by Lifespan Kids, there's something for every family. They're also a great social activity, bringing kids together for some collaborative playtime that everyone can enjoy. However, to ensure their longevity and safety, it is crucial to monitor and maintain them regularly. By following a few simple tips, you can keep your trampoline in excellent condition and minimise the risk of accidents. We'll discuss five essential maintenance tips that will help you enjoy your trampoline for years to come.
Regular Inspection:
The first step is simply to make sure you're checking up on your trampoline from time to time. Regularly inspecting your trampoline is vital for identifying any potential issues or damage. Start by examining the frame for signs of rust or structural weakness. Ensure that all the joints and connections are secure. Check the springs for signs of wear, such as stretching or rusting. Next, inspect the trampoline mat for tears, holes, or excessive stretching. If you notice any damage, it's crucial to repair or replace the mat to maintain safe jumping conditions. Lastly, examine the padding around the edges of the trampoline. Look for tears, deterioration, or exposed springs. Replace the padding if it is worn or damaged to prevent accidental injuries. If you need any additional parts, you can check out our trampoline replacement parts page, where you should be able to find anything you need.
Proper Cleaning:
Regular cleaning is essential to keep your trampoline in top condition. Begin by removing any debris, leaves, or sticks that may have accumulated on the trampoline surface. Use a broom or leaf blower to clear the mat and the surrounding area. Next, you may want to wash the trampoline with a mild soap solution and a soft brush or sponge. Make sure to rinse thoroughly with water to remove any soap residue. Avoid using harsh chemicals or abrasive cleaning tools, as they can damage the mat or the protective coating. Additionally, it is advisable to clean the trampoline springs and frame to prevent rust or corrosion. Dry the trampoline completely before allowing anyone to use it.
Proper Positioning and Storage:
The placement of your trampoline is crucial for both safety and maintenance purposes. Ensure that the trampoline is set up on a level surface, away from trees, fences, or other potential hazards. This will reduce the risk of accidents and minimise damage caused by collisions. During winter or any extended periods of non-use, it's a good idea to disassemble the trampoline and store it indoors or in a well-ventilated area. If indoor storage is not possible, consider using a winter trampoline cover specifically designed for the colder months of the year. A trampoline cover will shield the equipment from harsh weather conditions, preventing excessive wear and tear. Additionally, it will help to maintain the trampoline's springs, mat, and padding in optimal condition, extending their lifespan.
Understanding the Lifecycle:
Every trampoline has a finite lifespan, and it is essential to understand when it has reached the end of its usable life. Signs of an aging trampoline include excessive wear and tear, persistent damage, or structural weaknesses that cannot be repaired. If your trampoline is showing these signs, it may be time to consider replacing it. Continuing to use a trampoline that has reached the end of its lifecycle can pose significant safety risks. Therefore, it is crucial to monitor its condition regularly and make an informed decision about replacement when necessary.
Safety Features of Lifespan Kids Trampolines:
Lifespan Kids trampolines are designed with safety as a top priority. All our products have undergone rigorous testing against Australian Safety Standards to ensure they meet a high standard. They incorporate several key features to ensure a safe jumping experience for users. Our trampolines typically come with a high-quality safety net enclosure that prevents users from falling off the trampoline while jumping. The safety net is securely attached to the frame, providing stability and peace of mind.
There's thick and durable padding around the edges, covering the springs to minimise the risk of injuries. These safety measures significantly reduce the chance of accidents and make Lifespan Kids trampolines an excellent choice for families seeking a safe and enjoyable bouncing experience.
Conclusion:
Proper maintenance is essential for maximising the longevity and safety of your trampoline. Regular inspection, cleaning, proper positioning, and understanding the trampoline's lifecycle are key aspects to consider. By following these tips, you can ensure that your trampoline remains in excellent condition for years to come, providing a classic backyard treasure for your family.
If you have any questions about maintaining your trampoline, or about the Lifespan Kids range, feel free to reach out to our friendly team either by phone or email, and we'll be happy to help you put together the best backyard play area for your family.
Category:

News
Comments: 0