The Blog
Our Favourite Outdoor Kids Toys This Summer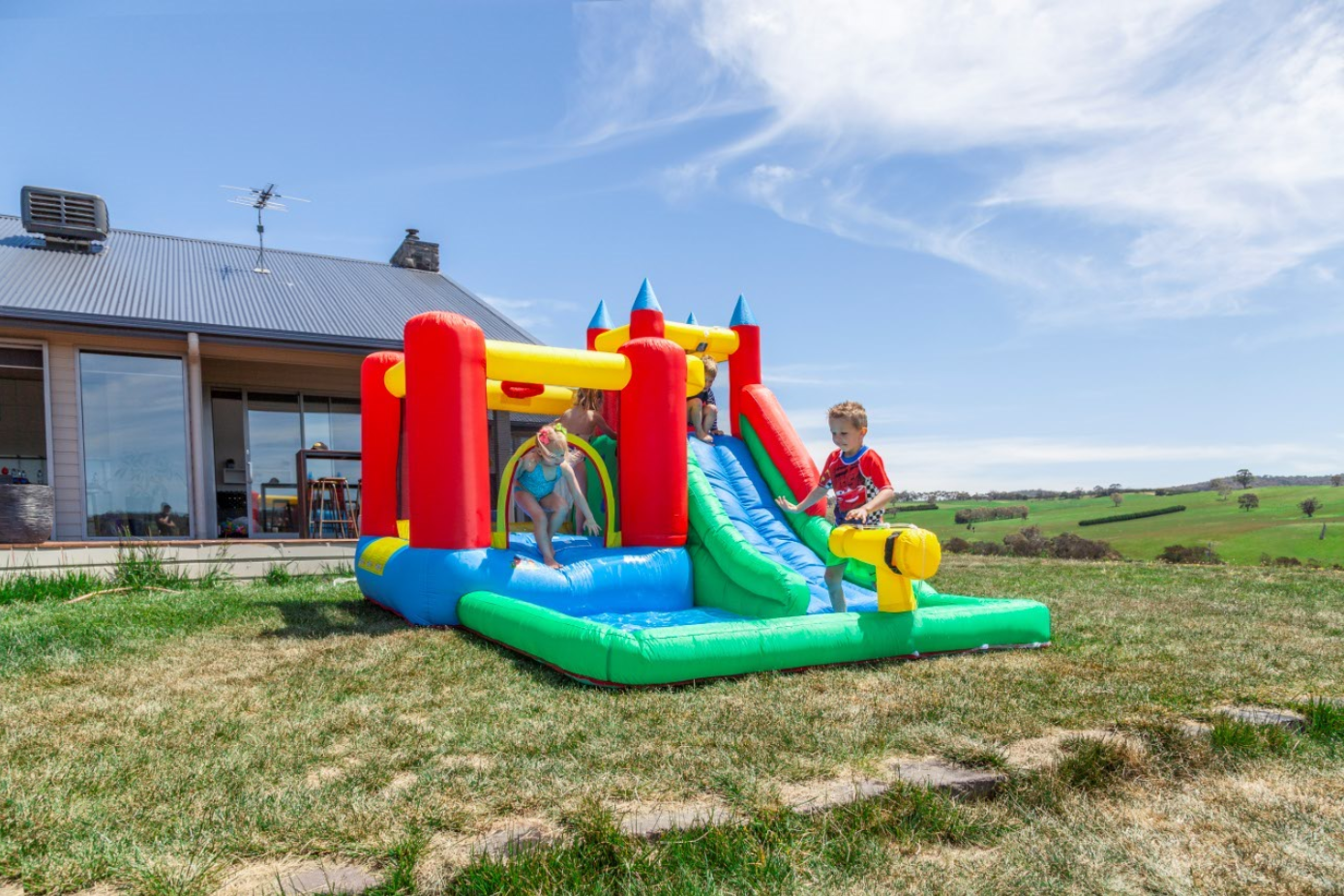 When summer arrives so does our desire to get outside and playing with the kids in the backyard. With the sun shining, playing games is all that more enjoyable and it becomes a whole lot easier to get some much-needed vitamin D. Summer is the perfect time to pull out some toys that might've been put into storage during the colder seasons or stock up on some new equipment. With summer holidays being the longest holiday period of the year, it may feel like a challenging task to keep kids entertained on days at home. Outdoor play equipment not only keeps little ones out of your hair for a few hours, it also helps kids develop motor skills, socialise, stay active and test the limits of their imagination. Outdoor play equipment is designed to make playing outside extra fun and kids love nothing more than a new toy. Whether it be a swing set, cubby house or inflatable a new piece of play equipment will be sure to keep kids happy and active this summer.  
Trampolines 
It's hard not to crack a smile while bouncing on a trampoline. Trampolines without fail make us feel carefree and lively in a way that no other equipment does. Trampolines are a great way to get kids energy levels up and squeeze in some active play into their schedules. During summer, trampolines are not only good for bouncing they are also great for lying under the sun and hanging out with a couple of friends on the jumping mat. These days parents can leave their kids to playing on the trampoline alone, with smart safety features that minimise the risk of injury. HyperJump trampolines keep kids safe while they practise tricks or fall over with the reinforced netting, curved padded poles and zipless entry. 
Slide & Splash Inflatables 
It wouldn't be an Australian summer backyard without a slide and splash inflatable. If your kids are begging for a swimming pool but you don't have the space or budget, then water inflatables are a great alternative that require minimal commitment. Water inflatables are perfect for keeping cool during some of the hotter days and it gives kids a slice of the excitement of a waterpark all within their backyard. Best of all inflatables come with an electric air pump making it easy to inflate and deflate for storage. This space savvy product is perfect for smaller backyards and transporting to a rental or holiday house during the holidays. Our range of water inflatables come in many sizes to suit 1 child or multiple children, the Windsor 2 is one of our smaller options, otherwise for the whole family we have the Olympic Sports Inflatable and Crocadoo Inflatable. 
Picnic Tables/ Sand & Water Tables  
During summer, you are sure to hear the kids asking to go to the beach and we can understand why! Building sandcastles, going for a swim and playing beach sports... What's not to love? Sand and water tables are a fantastic way to introduce toddlers to water play and bring some of the fun of the beach to the backyard. These tables help develop kids' sensory skills as they touch, feel and grab the sand and water. For the most part, sand and water tables are much safer for little ones in comparison to swimming pools and inflatables, so parents can rest easy during playtime. With 2 benches on the Sunrise Sand and Water Table, up to 4 kids can sit and play all together making it a great way for kids to socialise and rest. Best of all once they're finished playing, the removeable tubs allow you to easily clean up and the wooden lid can be placed on top, transforming it into a picnic table.   
Elevated Cubby Houses  
During any season cubby houses are a backyard favourite, they are a cosy sanctuary for kids to play, imagine and create their own adventures. However, on hotter days inside the cubby house can heat up fast and feel too uncomfortable to play in for long periods of time. Elevated cubby houses come to the rescue with the lower-level play area offering shade while kids can continue playing underneath the cubby house. Elevated cubbies including the Bentley and Kingston feature a large lower play area that can be transformed into a sandpit, ball pit, garden or picnic area, adding an extra layer of fun to the cubby. While on some summer days it may be too hot to participate in highly active activities so creative play in your cubby may be a more relaxing option.   
Sandpits/ Sandboxes 
If your closest beach is hours away, then bring the beach to your backyard... well just the sand. Sandpits or sandboxes are incredible fun for younger kids during summer as they build sand castles, play with sand toys and play games. Not only are kids having fun they are also advancing their fine motor skills as they dig, pour, scoop, build and grab. Canopy sandpits offer sun protection during summer so kids can keep playing in the shade. The adjustable canopy on the Joey Sandpit allows you to adjust the height of the canopy for the perfect amount of sun protection and even doubles as a sandpit cover. We know playing can be tiring, that's why our Strongbox 2 and Skipper Sandpit feature foldable chairs for little ones to rest or have a snack. 
Conclusion 
In summer so many more outdoor play options become available to children, however with phones and iPads in the picture it can be a bit more difficult to excite kids about getting outdoors. With some fun play equipment like trampolines, cubby houses and inflatables your backyard can turn into a summer oasis. Not only does summer rays help boost kids' vitamin D intake it also enhances their moods and assists in the physical and mental development of our children.  
Check out our range of kid's outdoor equipment here  
Category:

News
Comments: 0