The Blog
The Perfect Summer Playground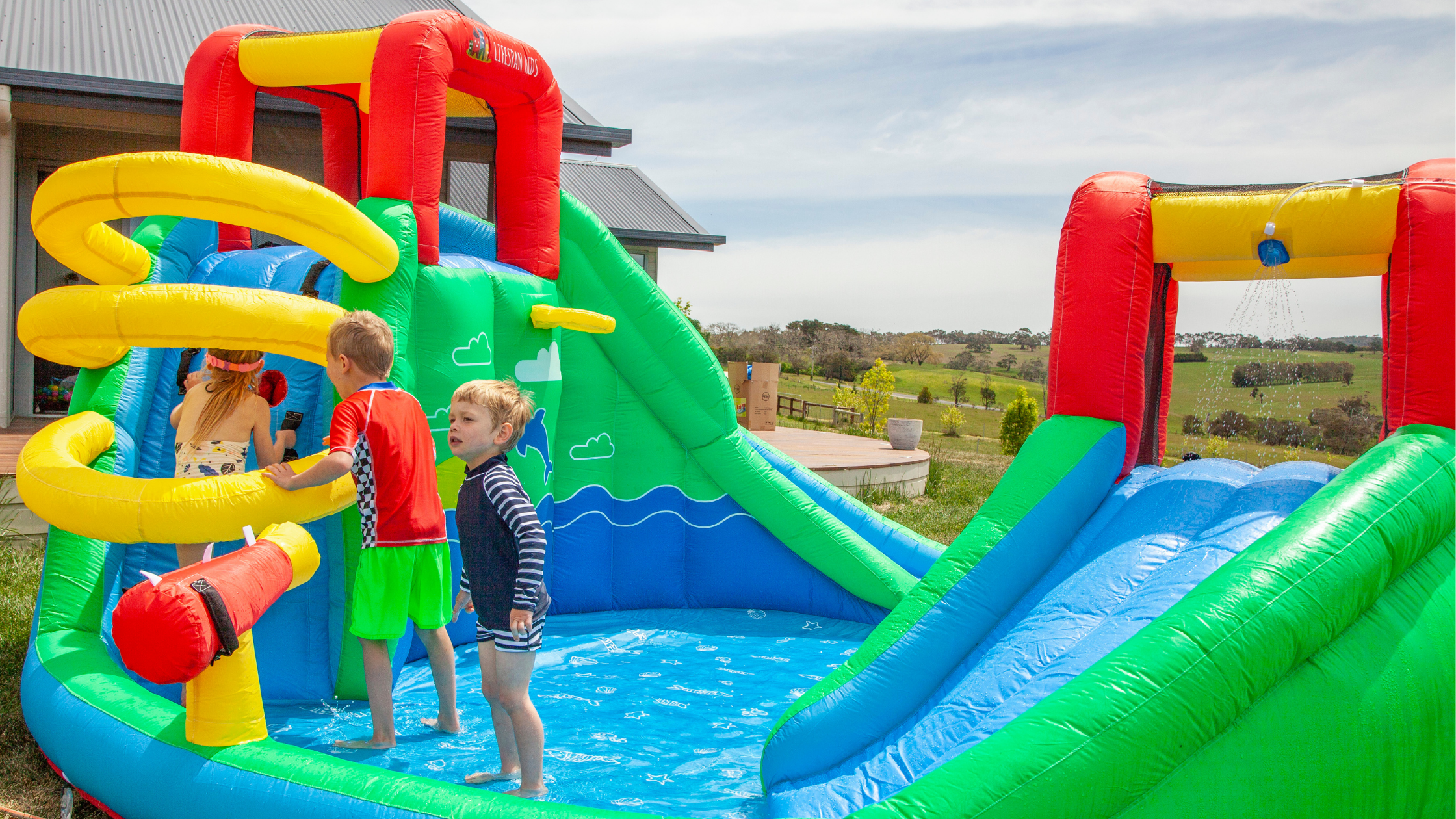 Summer is here again, and there's nothing like the feeling when you were a kid of running amok outside for hours on end as the sun dips lower in the sky. As we get older that feeling might be out of our reach, but it's still there for our own children, and there's another special feeling to be found in helping them capture that sense of wonderment and joy. We love inflatable jumping castles and water slides as the perfect summer playground. Read on to discover all the features and the amazing potential of these versatile backyard summer thrillers.

What To Look For.
Way back when, jumping castles were reserved for special events like birthday parties. They weren't a toy that every kid could have on hand and set up in the backyard at a moment's notice, but they are now. As a parent you want to make sure that your kids are jumping in only the finest, and safest jumping castles, so what do you need to look out for? This is a toy that will spend a lot of time outside in the hot summer and take a lot of abuse. Look for castles that are UV protected to reduce damage from the hot sun and for puncture proof material with double stitching to reduce tears and holes. You should also make sure that the air pump is included with your new jumping castle.

Different Sizes For Different Backyards.
Jumping castles are a lot of big fun, but that can mean a big footprint. Take a look at how much space you have available in your backyard and find the right sized castle for your space. They come in all different shapes and sizes so it's not difficult to find the perfect inflatable playcentre for your kids. The AirZone Bouncer for instance comes in both a 9ft and 12ft diameter variant. The Bouncefort Mini is another great option for small backyards, coming in slightly longer at 280cm with the front slide, but overall smaller with the 210cm bounce house.

Extra Features.
If size isn't a consideration then the possibilities for summer fun with kids inflatables are endless. Each inflatable is different and packed with a variety of features that your kids will love. The Bouncefort Plus has an enormous 1.71m slide, basketball hoop, ball pit area, and number themed jumping area. We haven't even gotten to the water inflatables yet, and that opens up a whole new set of extra features. How about the added fun of the water turrets and water slide that you'll get with the Surrey 2 Slide and Splash Inflatable?

Water Park Adventures.
Nothing says summer playground like your very own adventure water park. With slide and splash water inflatables, you bring the waterslide and water park action to you. Connect these amazing inflatables to your garden hose and turn them into the best way to cool off this summer. They're also loaded with extra features like the Windsor 2 Slide and Splash's climbing wall and massive 3m water slide, or the Olympic Sports Inflatable Play Centre that adds water ball sports to the summer of fun.

Ready, Set, SPLASH!
These inflatables are so easy to use. They're compact to store and they inflate quickly when you need them to turn your backyard into a summer playground. Kids love the fun of jumping for hours on end in these castles and water inflatables. You'll never have a dull moment this summer with an inflatable jumping castle on hand. Shop our entire Inflatable Jumping Castle collection here.

Category:

News
Comments: 0