The Blog
Benefits Of Early Development Toys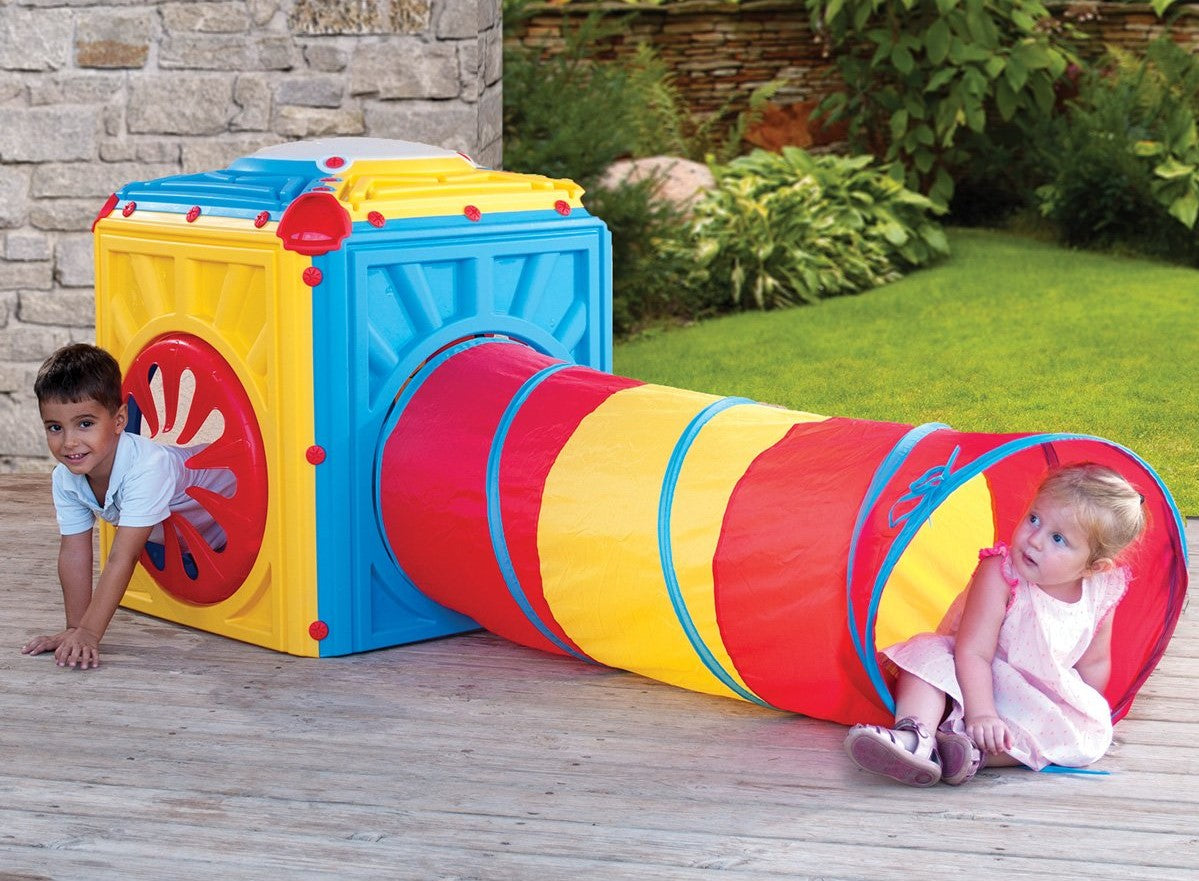 As parents, we all want the best for our children, and sometimes this means giving them a Head Start.  We try our best to provide our children with all the right resources, but sometimes grabbing their attention isn't easy. Learning should be fun, and this is what developmental toys offer. It is difficult for adults to see past the simplicity of developmental toys; however, the physical, emotional, social, and cognitive lessons imparted are indispensable and become the building blocks for a lifetime of learning.
Likely to be your child's first introduction to STEM (Science, Technology, Engineering, and Mathematics), the Multi-Activity Cube is a must-have for any parent looking to assist with their child's early development. The Multi-Activity Cube offers a range of activities that promote Kinesthetic or Tactile learning. As your child spins and lines up the Nine Colorful Geometric Blocks, they learn how to recognize shapes and colors. The Five Flower Turn Plates with Gears are a great way to spark an interest in engineering and mechanics. As your child turns the plates, they watch as one as the teeth of one gear meshes with another, transferring motion and power. Three unique mazes offer a range of learning opportunities. As your child moves the beads from one side of the mazes to the other, they refine their fine motor skills and gain spatial awareness. They might drop a bead on a vertical slope of the maze, teaching them rules and laws of physics such as gravity. When they get to the other end of the maze, they gain a sense of accomplishment and gain confidence. 
Visual and creative arts are essential for early development as it encourages emotional, physical and cognitive growth. Art Easels provide multiple ways for a child to express their creative selves. Drawing, painting, or writing, seems simple but each stroke will refine their fine motor skills and improve their hand-eye coordination. Creating an image also introduces problem-solving skills. Creating an image requires children to make decisions about placement, color, dimensions, and other artistic techniques with the goal of represent a thought or an idea visually and correctly. The Easel is two-sided, giving your child an excellent opportunity to be creative with friends. As they create their masterpieces, your children will exchange ideas, share equipment, and tell stories; this will help your kids develop socially and emotionally, giving them the confidence they will need for school and other social settings.   
The Rocking Horse has been around for centuries and for a good reason. The Rocking Horse's back-and-forth motion encourages movement that supports muscle development and introduces a sense of rhythm and balance. This is especially helpful for those little ones trying to find their feet. The rocking motion also provides a great way to self-soothe; this is especially helpful for children that have issues with how they perceive sensory stimulation. The back-and-forth motion of the rocking horse helps to keep children calm in times of overstimulation, and gives them a space to play by themselves when social interaction has become overwhelming.  
Structures such as the StarPlay Activity Cube encourage children to be active and help them to refine their gross motor skills. Crawling through the tunnel helps your child to develop a strong core and strengthen their bilateral coordination skills. The StarPlay Activity Cube fosters a sense of exploration, imagination, expression. Playing with others teaches them how to socialise and learn skills such as sharing, patience, tolerance, and fairness; this is especially helpful when things don't go their way, and they need to regulate their emotions.  
Play can instil a desire for lifetime learning. Our future relies on today's children, and it's our responsibility to care for and nurture them. Children need toys that challenge them, stretch their imaginations, educate them, and entertain them, but most of all, it must set the tone for future learning and education as something fun.  
Category:

News
Comments: 0