The Blog
So, You Want a Wooden Cubby House?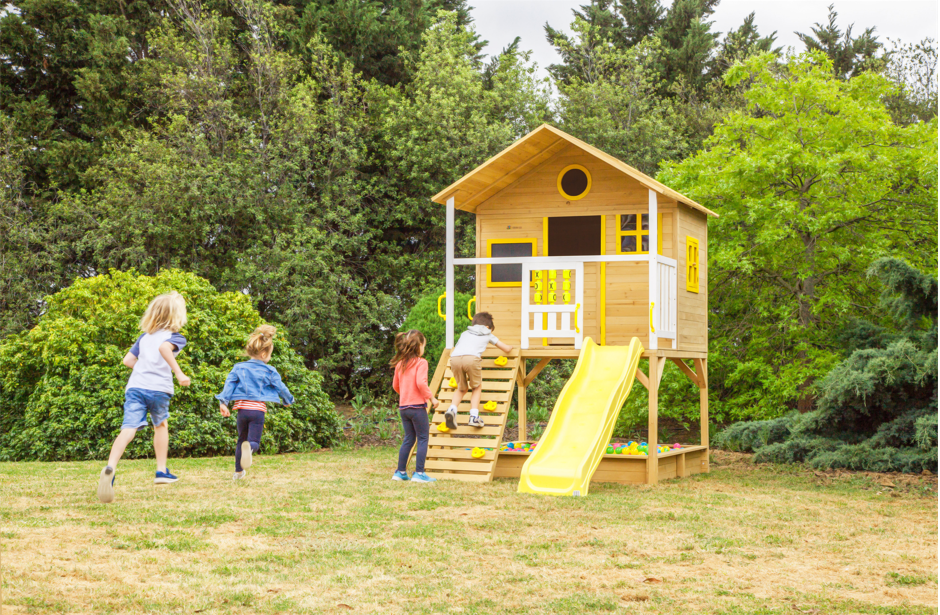 Cubby houses are a backyard staple and an exciting domain for children to let their imaginations run wild. With many different styles and sizes, finding the right cubby house can be a tackling task. These days, cubby houses have never been more stylish and they have definitely upgraded in the last decade. Cubby houses have been a fan favourite for many years, kids love them as it offers a playful space to let their imagination run wild. A space for kids to play, hide and escape to... what's not to love. The great thing about cubby houses is that the age range is quite vast, for toddlers small ground level play houses are available, while young kids can enjoy elevated cubbies. To ensure your little one is going to make the most of their new cubby it may be worth exploring all options and considering what type of cubby will integrate best with your family and backyard.   
COTTAGE VS ELEVATED 
If you've already started your search, you would know that cubby houses, come in a range of different styles and sizes. For little ones, a cottage cubby house is a perfect size and style to begin with. Take into account that installing a cottage cubby house requires more effort to prep the ground. Otherwise, elevated cubby houses are fantastic for multiple or older kids. On rainy days the elevated design allows water to easily drain away. Another bonus to the elevated design is that accessories can be added onto the cubby house like a slide, rock climbing wall, step ladder and shaded area for a sandpit. The type of cubby house that will work best with your family depends on age, how many kids will be playing in the cubby and the size of your backyard. If you're looking for a cubby house that you hope will stick around for a few years, it may be worth upsizing so your kids can grow into the cubby house. 
SIZE 
Do you think 'I wish I could get a cubby house but I don't have the space'? Well, that wouldn't necessary be true. Cubby houses come in a range of sizes and tend to take up more space upwards. However, if you are tight on space a cottage style cubby will integrate nicely in a smaller backyard and provide heaps of fun for younger kids. Once you have decided on a size, the next question will be where to put it. As you evaluate the space available in your backyard it is suggested to allow extra room for other activities and consider any overhanging branches.    
CUSTOMISATION 
If you're a creative parent that loves to get hands on and tackle any DIY project, then your kid won't be the only one enjoying a cubby house. Cubby houses are very easy to customise, the plain wood frame encourages owners to paint and personalise the cubby to suit their desired aesthetic. The customisation doesn't end at the exterior, there are plenty of accessories that can be added to the interior to make the cubby feel comfortable. Interior additions could include adding in a serving counter, stools, a club sofa, toys, kitchenette, activity tables, and much more. Add-ons encourage kids to feel as though the cubby is their very own private play room with all their favourite toys. Say goodbye to struggling to get your children playing outdoors.  
SAFETY  
When it comes to children their safety is first priority. Naturally parents will have safety concerns around purchasing large play equipment, especially when toddlers tend to be the biggest dare devils. A good quality wooden cubby house will be strong, stable and shouldn't pose any major risks for children playing alone. If your child is a climber, do not worry as most cubby houses are designed with slanted roofs making it impossible to climb. Before purchasing a cubby, look out for safety certifications to ensure your child will have a safe cubby to play in. Play equipment that meets Australian Safety Standards are the best option for minimising potential harm to children so you can have peace of mind while your children play. The Australian Safety Standards or equivalent Standards (such as EN71) test the structure of the cubby (children are unable to climb onto roof), any protruding parts or open tubing, proper warning labels and any potential for physical harm.
ASSEMBLY & MAINTENANCE  
Building your cubby house doesn't have to be a difficult task. Prefabricated cubbies take all the hard work out of building the cubby house. Prefabricated or semi pre-fabricated cubbies come with pre-built components like the walls and roof, eliminating difficult construction steps. For bigger cubby houses you may want to enlist the help of a second person to assist in lifting heavier pieces. An instruction manual will also offer a step-by-step explanation that is easy enough for anyone to follow. The simple to follow assembly kits eliminates any frustration and makes the building activity fun for the whole family. 
TYPE OF WOOD 
Cubby houses are built using various types of wood and will provide different benefits. The most common species of timber used for cubby houses are fir and cedar. Fir is a fast growing, lightweight, naturally decay and insect resistant timber that is ideal for outdoor play equipment. Whilst, cedar wood has a low shrinkage factor meaning it is highly resistant to warping, twisting and checking. Both fir and cedar wood are extremely durable and long-lasting, even in extreme environmental conditions. Keep in mind, timber will need to be treated by sanding away any sharp points and re-painting it with a stain to help pro-long the protective layer.
Summary
Cubby houses can be a fantastic addition to your backyard and they come with many fun filled memories for the entire family. Lifespan Kid's offer a range of durable cubby houses of all shapes and sizes that have been tested to Australian Safety Standards. Children can be introduced to a cubby house at a young age and continue to enjoy the private sanctuary as they get older. With many different styles and sizes there is a cubby house for every family and backyard. It needs to be a good fit for your children and for you, and above all, it needs to be safe.  
Shop the Range of Lifespan Kid's Cubby Houses Here 
Category:

News
Comments: 0