The Blog
Wooden vs. Metal Swing Set – Which is Best?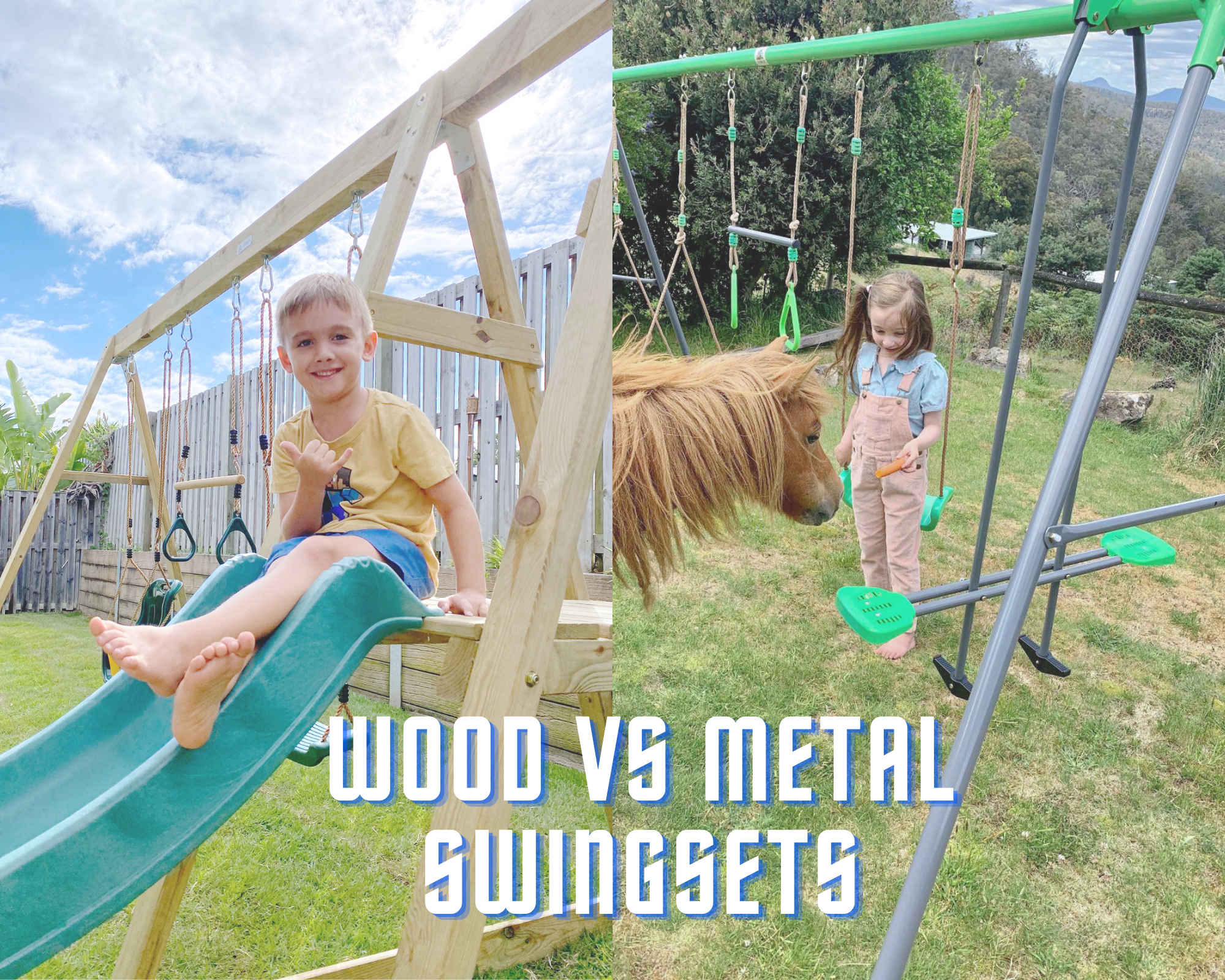 So you're tossing up between a wood or metal swing set. Which is best? Which will last longer? Which is safest? These are all valid considerations and frequently asked questions from parents. Children's swing sets have rapidly evolved and flooded the market with heaps of innovative options to choose from. Sometimes it can be tricky to get all the facts before making a decision. While both wood and steel are great choices when it comes to outdoor play swing sets, they do come with their own benefits and drawbacks. 
Wooden Frame
The Advantages: 
Wooden swing sets are favoured by some for its rustic and natural appearance that doesn't seem to go out of style. Timber swing sets are a classic that has been around for a while and you may remember swinging on something similar when you were a child. Wood does a great job of complimenting the natural elements of a backyard and blending in nicely to outdoor décor making it a popular option amongst parents. DIY projects have become increasingly popular for owners of wooden play equipment and many enjoy the opportunity to paint and customise their swing set frame to their own taste. A wooden frame will offer more support and stability as the frame is heavier which will come in handy for owners who live in a windy area or want to increase the products lifetime. Timber will also prove to be adaptable throughout various environmental conditions and remain durable in high moisture areas. 
The Disadvantages: 
Although wood looks great it does come with a bit of upkeep and good quality equipment can be more costly. Wood requires maintenance to keep it in good condition including sanding down and re-applying stains to increase the woods longevity. Wooden equipment can have a long lifespan if owners are attentive and quick to address any damages. It may also be worth considering that wood splits and creates surface cracks in drier seasons, although this doesn't affect the strength of the product some may not like how this looks. Assembling wooden swing sets can be more tedious as it requires additional care and effort to ensure the wood doesn't damage when screwing in the bolts or drilling holes.   
Summary of Wooden Frames 
Pros: 
Natural aesthetic 

 

Easy to customise (painting) 

 

Stable and durable

Fares well in various environmental conditions including high moisture areas
Cons: 
More costly

 

Requires maintenance

 

Requires extra care to be assembled
Metal Frame
The Advantages: 
Metal swing sets have sparked buyers' interest with it's lower price point and minimal maintenance. Durability is one of the major benefits of metal swing sets, high-quality metal is made of sturdy steel with a protective coating to prevent rust. You will find that metal swing sets come in a variety of different brightly coloured coatings which may sway kids towards favouring this style, as well as, add a pop of colour to your backyard. The assembly process for metal equipment is relatively easy as the parts are lighter to lift in comparison to wood. Maintenance on a metal frame will take up less time as it just requires regular cleaning and potentially repainting if it begins to show signs of rust.
The Disadvantages:  
Integrating a metal swing set into a backyard can be a tricky task for some. The industrial style isn't always preferred by home owners wanting to maintain the natural style of their backyard. Similar to wooden frames, steel frames can be painted, however further modifications will be extremely difficult as this can lead to a voided warranty or damage to the galvanised coating. When you live in the hot Australian sun it is important to note that metal swing sets can get very hot when placed in an open area under direct sunlight. To avoid little fingers getting burnt from the sun, it is recommended to keep metal in a shaded area. Steel frames are more susceptible to rusting in high moisture areas and may require maintenance including applying a sealant to the frame and regular cleaning to slow down the process. However, rusting is an ordinary process for metal, the strength and stability does decrease over time meaning you may have to replace it sooner than hoped.  
Summary of Metal Frames 
Pros: 
Lower price point

 

Minimal maintenance 

 

Steel is sturdy and durable 

 

Variety of different colours available

Easy assembly
Cons: 
Steel frame is not as popular and may not suit every backyard

 

Difficult to modify

 

Prone to rusting, especially in high moisture areas such as seaside or lakeside

Steel heats up quickly and can be unsafe on hot days
Summary
Both wood and metal framed swing sets have their pros and cons. Before making a decision, it is important to consider environmental factors, aesthetic, cost, durability and maintenance required. If you are after a swing set that looks great, matches décor, and you live in a high moisture area, go for a timber frame swing set. If you're looking for an easy to assemble, cheaper option with minimal maintenance, go for a metal frame swing set. 
Category:

News
Comments: 0