The Blog
The Best Play Equipment For Big Families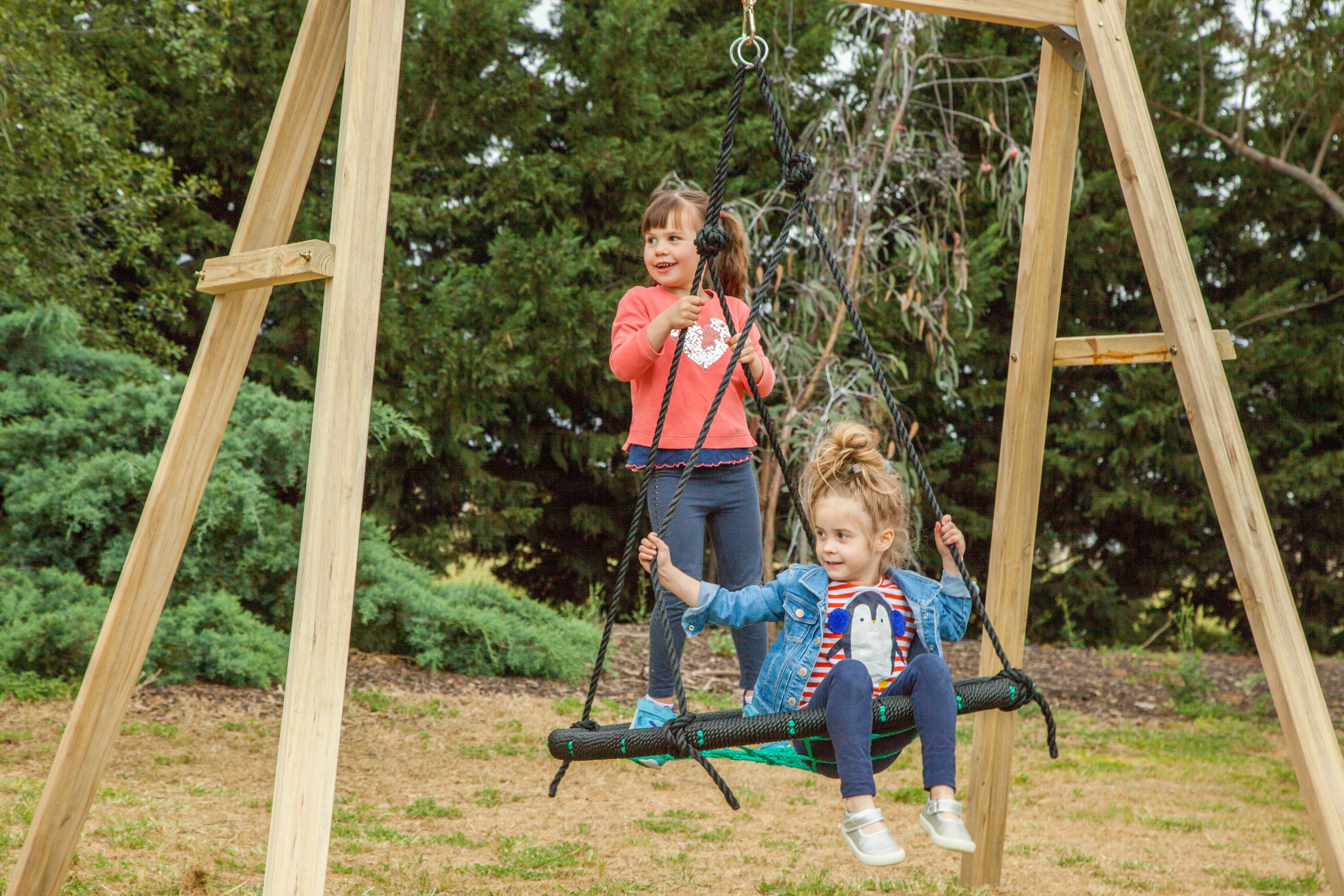 Gather the herd, we're keeping the whole family entertained today. Whether your own family is big or your house is the hub for regular gatherings, it's tough to keep all the kids entertained at once. We've got you covered with all the best outdoor play equipment for big families and big backyards. We have some permanent fixtures and some that you can pack down until the next big event.
Club House
We'll start simple. Kids love to have a clubhouse to call their own. Cubbies are a great spot to launch imaginative adventures. With bigger cubbies like the Warrigal there are heaps for all the kids to do. Relax and unwind in the playhouse, climb and slide on either the climbing frame or rock wall, or spend an afternoon creating in the shaded sandpit. With a big cubby house in your backyard, kids can put their mark on it and take ownership of this little slice of their paradise.
Play Centre
If your kids are a little bigger or have a lot more energy to burn, maybe a swing and slide set or play centre is more their speed. The Lynx Metal Swing Set has so many ways to swing and slide to keep all the kids active at once. Play centres incorporate the cubby house to give you the best of both worlds. The enormous Skyfort has heaps of ways to play and relax for big families: a swing set with two belt swings and a two person glider, monkey bars and a rock wall for little acrobats to swing and climb, a ground floor picnic area and raised fort for chilling out after going wild, an observation deck to peer out over their whole domain, and who could forget the 3 metre speedy slide to cap it all off? Play centres have something for everyone.
Climbing Frame
When you have to corral a herd of especially active kids, why beat around the bush. A massive climbing frame is a perfect way to burn off all that extra energy. Every moment on this play equipment is active and engaging. The Junior Jungle Madagascar has so many ways to climb and swing, it'll be like your little monkeys are traveling through the jungle canopy. Climb high with the climbing rope and rope wall or jump from branch to branch with the nearly 4m long monkey bars. Reach for the stars with the three station swing set complete with a trapeze or soar across the sky with the 4m long flying fox. Adding a climbing frame to playtime is like having an adventure playground right in your backyard.
Inflatables
The best thing about Inflatable playgrounds is that they don't have to take up space all the time. Maybe you've been volunteered by your extended family to host the regular raucous gatherings. Pulling out the jumping castle for the kids is the best way to keep them entertained without committing to a permanent fixture in your yard. There are also so many ways to have fun with bounce houses. The Bouncefort Plus has a huge jumping space, enormous slide, and even a ball pit. Now, let's add a bit of water to the mix. Slide and Splash inflatables like the Olympic Sports Inflatable Play Centre are fun for a bounce but they start to shine when you hook up a hose. Turn your backyard into a water park, complete with water slides and built in water guns. Once again, the best part is that you can deflate it at the end of the day, pack it all away, and return your yard to normal, at least until the madness begins all over again.
Make Big Fun
When you have a big family you need to go big to keep them all entertained. The kids will love a place outside to swing, slide, climb and burn off all that extra energy. We think these are some of the best ways to entertain many kids all at once. But don't be afraid to mix and match and try a couple of options. Host the whole family in your backyard playground.
Category:

News
Comments: 0