The Blog
Amazing Cubby House Ideas!
There are so many fantastic cubby houses on social media to inspire you to chase your own #cubbygoals. It might seem daunting at first but we're here to help you navigate the world of cubby house design, and get you started on your own amazing cubby project.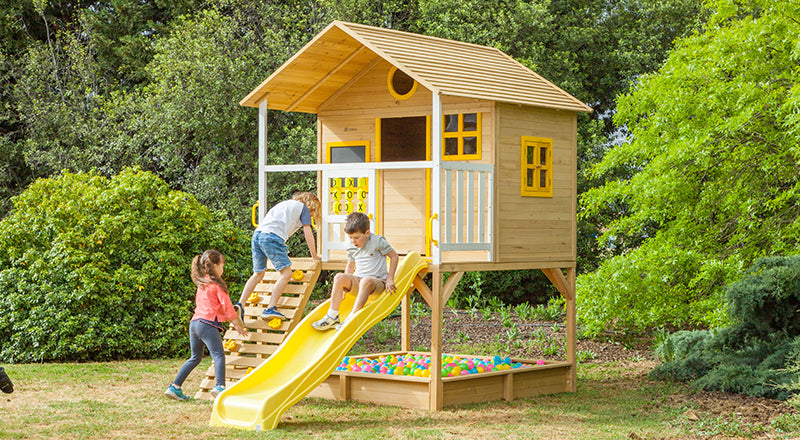 Why a Cubby House?
Did you have a cubby house growing up? Maybe a treehouse? It's such a wondrous way to play, with your own little place to call home, where you can play and launch fantastical adventures. With so many ways for kids to play indoors today, it's fantastic to see that cubby houses are just as popular as ever; you need only look at the amazing cubbies parents are posting on Instagram to see the proof. A lot of parents are designing marvellous creations in the hope that it will encourage their children to spend more of their childhood playing outside.
For kids, those four walls could be a magic castle, space station, pirate ship, the list is endless. With kids playing and creating in their own world, it encourages them to think outside the box and be more imaginative. For some parents, it might be enough that their kids are spending time outside, instead of in front of a screen. Giving them their own little world to play in fosters their independence, and inviting a friend to join them in that world helps them to develop lasting social skills. Depending on the features you add, your child's cubby might even improve physical coordination and strength.
Where to Start?
Once you've decided to add a cubby to your backyard, it's time to start considering the build. Will you build it yourself from scratch or purchase a prefabricated model and build off a plan? Building off a plan will free up a lot of time for you to add your own little touches; the perfect options for parents who aren't master builders. What kind of cubby are you interested in? Maybe a cool little cottage to dress up like a home away from home? Or maybe you'd prefer an elevated cubby house packed with activities and features, like a fun slide and sand pit? Have a think about who the cubby is for, their personality, how you'd like to decorate it, that might narrow down the selection for you. Our cottage cubbies are great for younger kids, amazing for role playing and engaging their imaginations playing house. Our elevated cubby houses keep older kids entertained with loads of features, like a sandpit underneath, slippery slide exit, and more space in the raised play fort. Check out our range of cubbies to see what's available and get inspired.
IMAGE: Left - The Spacious and feature packed Winchester elevated cubby house. Right - The cosy Camira cottage style cubby house.
Adding Your Own Touch
You've made up your mind now and settled on a design. Let's talk decorating. You've probably seen some of the talented parents on Instagram posting their own conversions. If not, don't stress, we've included some inspiration of some of the conversions we were impressed with. Think about the colour scheme you might like to paint your cubby. Your little one might have a favourite colour you'd like to use. More muted colours are fashionable right now, so if your children like pink, a nice pastel pink will look good in any yard. If they don't have a preference for the colour, think about mirroring the colour scheme of your own house and yard. Otherwise, shades of grey are popular in interior design at the moment.
IMAGE: Some of the great features that come with our cubbies. From left to right - noughts and crosses, chalkboard, letterbox, flower box.
Have a think about what decorations you can add to the cubby to match your little one's personality. Our cubbies already come with little touches to make their owners feel right at home. The Camira comes with a chalkboard and letter box for instance. Some of our cubbies have spinning noughts and crosses tiles, some come with steering wheels, and our elevated cubbies have a fun slippery slide to get you back to the ground. Aside from what comes as standard, there are a million different attachments you could add to give your cubby a personal touch. Get inspired by looking at some of the incredible cubbies already on social media. Think about lighting. Flower pots and beds add a bit of life and colour to your cubby. Add some homely touches with a play kitchen, furniture, a doorbell, maybe even a letterbox and a welcome mat.
Get Creative
We design our cubby houses to be blank canvases. They're easy to build, and give kids a good structure to play in, but we like to give kids and parents the option to get creative with their decorating. There are plenty of conversions to draw inspiration from as you build and decorate your cubby, but don't be afraid to make bold decisions and find what works best for your kids. Happy building, and don't forget to share the results with us. We always love to see the amazing things parents do with our cubbies.
IMAGE: The Warrigal Cubby House before and after a few coats of pain. What a difference it makes.
Featured Cubby: The Warrigal
Our Featured Cubby House this month is the Warrigal: an elevated cubby with raised house and ball/sandpit beneath. The Warrigal is a great sized cubby with plenty of room for activities. It encourages kids to get active with a rock climbing wall and slide, keeping them endlessly entertained with a chalkboard and noughts and crosses spinning tile wall.
IMAGE: Our Featured Cubby, the Warrigal. Left - The exterior, painted in a soft blue/grey and white. Top Right - The front door, with welcome mat, metal house number. flower bed. and ship's bell. Bottom Left - Interior, play kitchen decorated in marble wrapping and gold paint, with lifestyle decorations
We've seen a lot of fantastic conversions of the Warrigal lately. Here's one of our favourites from @judgymummy who used the Warrigal as jumping off point to build her daughter this dream cubby. The palate blends perfectly with her backyard with soft blue/greys and white. Judgymummy has kept our built in features (chalkboard, noughts and crosses, rock climbing wall, slide) but added her own little touches. We have a huge range of play kitchens to add to your cubby. This one has been decorated with marble wrapping and gold painted trims. Browse the collection at Bunnings and Kmart or your favourite retail variety stores to find interior and exterior design elements like the welcome mat, flower beds, bells, and frames. The most amazing thing about judgymummy's design is how modern and true to life it is, giving her daughter her own little home to play and live in. We hope this conversion inspires you to make your own dream cubby become a reality.
Category:

News
Comments: 0